How Does The Policy Rescue Analysis Work?
Settlement Masters has created The Masters Process™ that each life settlement client is walked through.  The various stages of the process are outlined below starting with a client or advisor identifying a settlement opportunity. 
How Does it Work?
We've strived over the years to create a very transparent process that is easy to follow and understand.  However, we believe there are several key talents we possess that separate us from others.
First, the informal appraisal we complete gives an indication of the policy's sale value.  This allows you to determine very quickly if it makes sense to move forward into the process.
Second, the keep versus sell analysis enables you to evaluate multiple "What If" scenarios, including death benefit changes, premium contribution variances and alternative investment options for the sale proceeds.
Third, as offers are received on the contract, Settlement Masters aggressively negotiates the amounts as well as the fees associated with each offer.  We regularly negotiate the fees down from the industry standards.
Finally, when the policy has been sold and proceeds transferred, Settlement Masters creates a Compliance File for the policy owner, insured and advisors.  We know questions may arise after the sale is completed so we created this resource to reference.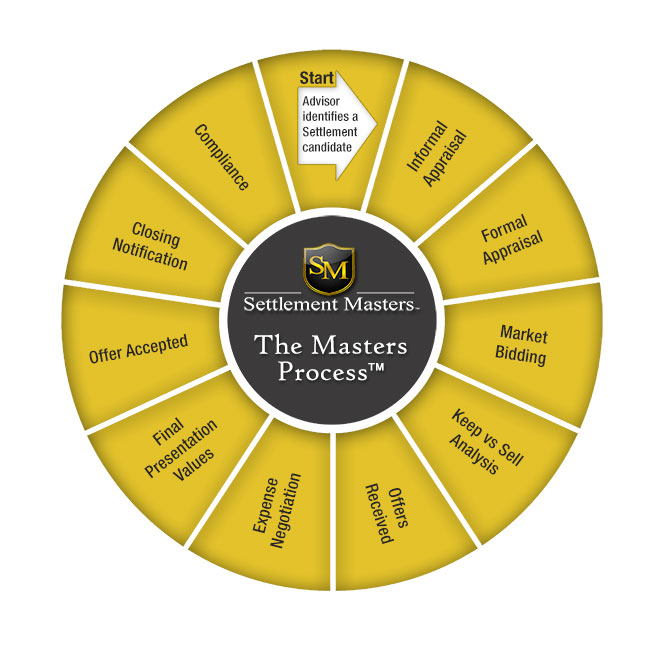 Making Sure You Are Getting the Most Value
Settlement Masters prides itself in doing a complete and thorough analysis of each policy that we are requested to sell. We want you to know all the things you can do to keep the policy so anyone affiliated with the policy (Insured and Beneficiary) is comfortable in knowing you made a logical decision on an economic basis.
Settlement MastersTM specializes in obtaining bids from multiple Institutional Funds for the purchase of a life insurance policy. More parties bidding generally creates a higher price for you.
Life insurance is an asset that may have a greater value than just the cash surrender value, sometimes as much as five times more than the cash surrender value.
What are Institutional Funds/Trusts?
Institutional Funds/Trusts are special entities established typically by pension funds, banks, hedge funds and investment companies for the purpose of purchasing life insurance policies as investments. The funds may own hundreds or even thousands of life insurance policies that are held within their portfolios.
If you are 65 or older or have experienced a change in your health condition, your life insurance policy might sell for more cash than you realize!