Below you can find a list of common terms to help you learn more about the life settlement industry. We encourage you to call us if you have questions or need clarification on terminology.
Beneficiary
The person or persons who receive the net death benefit on a life insurance policy after the insured person's death.
Broker/Life Settlement Broker/Life Settlement Professional
A Life Settlement Broker is an individual or business that specializes in representing a policyowner that wishes to sell an unwanted or no longer needed life insurance policy.
Death Benefit / Net Death Benefit / Face Value
The amount that is to be paid by the insurance carrier to the beneficiary(ies) listed on the insurance policy upon the death of the insured person.
Financing Entity / Institutional Investor / Institutional Trust / Funder
The companies or investors that specialize and invest in purchasing life insurance policies. Banks, individual investors, hedge funds, and many others have developed Trusts that invest in life insurance policies. They buy hundreds, sometimes thousands of life insurance policies and that policy becomes the investment return on the trust.
Insurance Agent / Life Insurance Agent
An individual who is licensed to sell insurance policies to consumers, which may include health, life, and disability insurance. An insurance agent must be licensed as a life settlement broker to participate in a life settlement transaction. Otherwise, the insurance agent's main responsibility is to represent the life insurance company.
Insurance Carrier / Insurance Company / Life Insurer
A business that issues insurance products and underwrites insurance contracts whereby the insured pays a premium in case of life events such as disability, death, and pensions.
Insured 
The individual who has life insurance coverage under a life insurance policy.
Life Insurance Policy
Common types of life insurance policies include universal life, term life insurance, and whole life. These are contracts between a policyowner and a life insurance company, where the life insurance company pays a death benefit to the beneficiary(ies) if the insured pays their contractual premium.
Life Settlement / Life Insurance Settlement
The sale of a life insurance policy to an institutional trust or third party in exchange for a cash amount which is less than the net death benefit of the policy.
Policy Type
Insurance companies have several types of insurance policies. Common types of life insurance policies include universal life, term life insurance, and whole life. One of the qualifying factors of a life settlement is the type of insurance policy an individual holds.
Premium Payment
An amount agreed upon between the insured and the insurance company to maintain the life insurance policy, and can be paid in several ways, including annually, quarterly and monthly.
Death Benefit Settlement Option
These are the types of options that a beneficiary has to receive the death benefit. The life insurance contract will specify the type, but common types are lump sum payment at death, interest accruing, and payment schedules.
Viatical Settlement
A viatical settlement differs slightly from a life settlement in that it is the sale of an insurance policy when the insured is terminally ill and has about a two to four year life expectancy remaining. Normally, the proceeds of a viatical settlement allow the insured to use them to pay for medical bills and living expenses, and the proceeds may be tax-free.
Settlement Masters has created The Masters Process™ that each life settlement client is walked through.  The various stages are outlined below with the process starting with a client or advisor identifying a settlement opportunity.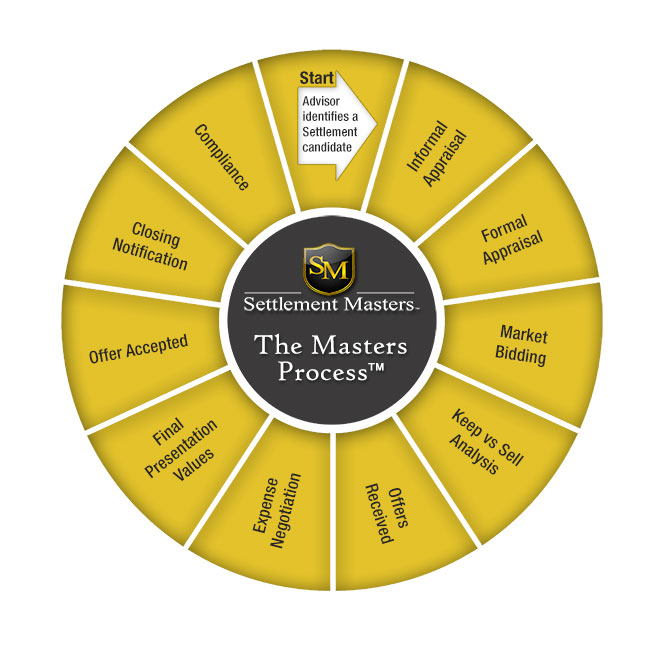 Contact The Settlement Masters today to get started by appraising your life insurance policy and deciding whether a sale is the right choice for you.
If you are 65 or older or have experienced a change in your health condition, your life insurance policy might sell for more cash than you realize!